CCTV Fitting in Blackpool & Surrounding Areas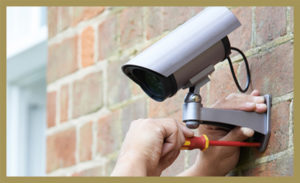 We fit CCTV systems in domestic homes and commercial properties in order to protect the property from potential outside threats.
We are based in Blackpool in Lancashire and can cover the areas of Bispham, Fleetwood, St Annes, Lytham, Poulton-Le-Fylde and Cleveleys.
If you're looking for someone to help you set up your CCTV system, then just contact us on 01253 625 015.
The Benefits of Having CCTV
Deters Burglars
CCTV is a great deterrent for burglars who don't want to be caught out on camera. Positioning cameras outside your home and with night vision can help ward off any threats before they make it through your door.
Monitor Away From Home
Did you know that you can monitor your home or business while on the move by using some sophisticated CCTV software?
Safer Working Environment
If you own a commercial business, installing CCTV creates a safer working environment for both your staff and customers.
Peace of Mind
Knowing that you're adequately protected against outside threats is often enough to put your mind at ease.
They May Reduce Costs!
Having CCTV installed may also reduce the overall cost of your house or business premises/liability insurance.
Other Security Measures
Of course, it's not just CCTV that can help protect your home or business. We also recommend these security measures too.
Motion activated outside lights
Visible window and door locks
A working alarm system
Front gates
A dog!
About TM Maintenance
We pride ourselves on delivering excellent customer service, and with over 40 years experience you can be assured of a professional and reliable service. Your privacy and safety is of the upmost importance to me.
If you're interested in having CCTV installed and require further advice, then please don't hesitate to fill in our contact form on the contact page here.